Reading Rocks Book Review vocab and display pack
Reading Rocks Reviews is a fully planned book review writing unit created with Michael Rosen and other authors including Frank Cottrell-Boyce, Malorie Blackman, Liz Pichon and David Almond. Downloads below.
To download the vocab sheet display pack only, click here:  READING REVIEW PACK ONLY
For free access and download the complete project including the vocab sheet and display pack, planning, videos and resources, click here: COMPLETE PROJECT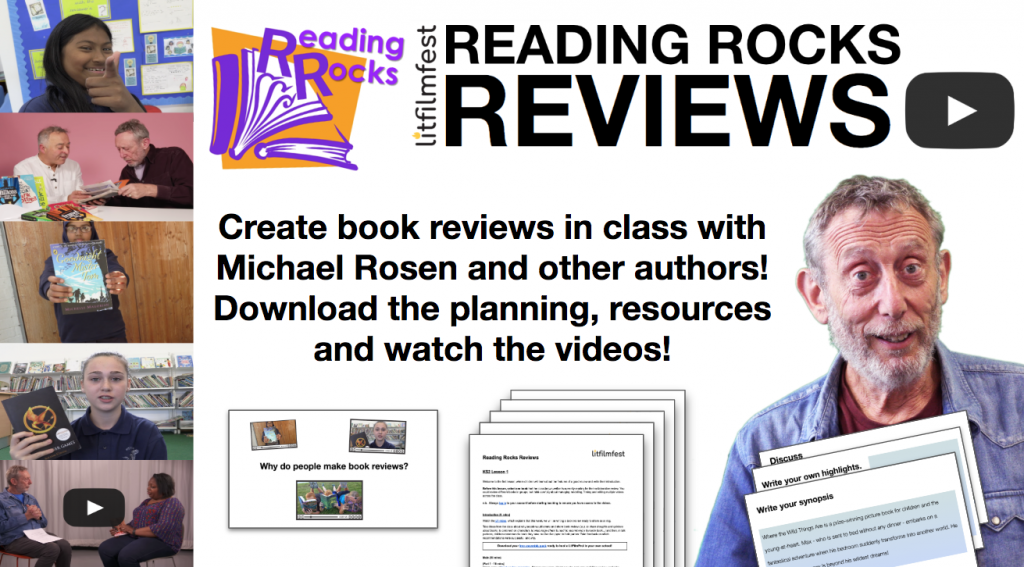 Follow @LitFilmFest on twitter to see more free projects and resources as they are released.
—–
If you'd like to join Reading Rocks and LitFilmFest at a #RR_popup event, get your tickets here:
Manchester, October 7th 2019 – with LitFilmFest, Nosy Crow and author Fleur Hitchcock
London, October 14th 2019 – with LitFilmFest, Nosy Crow and author Louie Stowell
Birmingham, October 22nd 2019 – with LitFilmFest, Nosy Crow and author Helen Peters