---
What is The Quick-Fire Write?
The Quick-Fire Write is set of short, engaging writing tasks that pupils can take on daily or weekly. This helps build up stamina when writing opinions or arguments. 
teacher-led, group focused or independently completed 

short and sharp, keeping children's interest levels high

allows for a variety of learning styles and abilities

non-fiction focus on engaging with current issues
Use is flexible for school or homeschool. When to carry out activities? As a warm-up for a longer write, a quick morning task, or for purposeful time at then end of the day.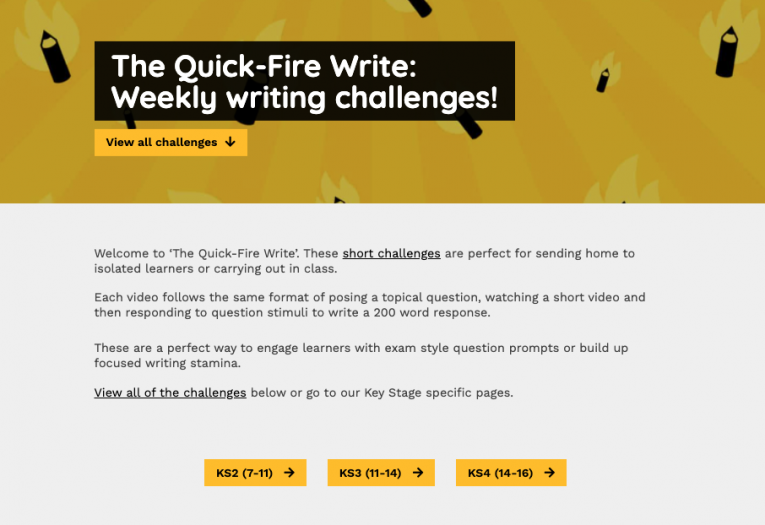 ---
Become a Quick-Fire Write Classroom
This download contains printable materials to help you become a 'Quick-Fire Classroom', embedding the Quick-Fire Write into your pupils' routine as a daily or weekly activity.
The pack contains tick chart posters for your display boards, plus other items which can be used to create a display of the children's completed writing.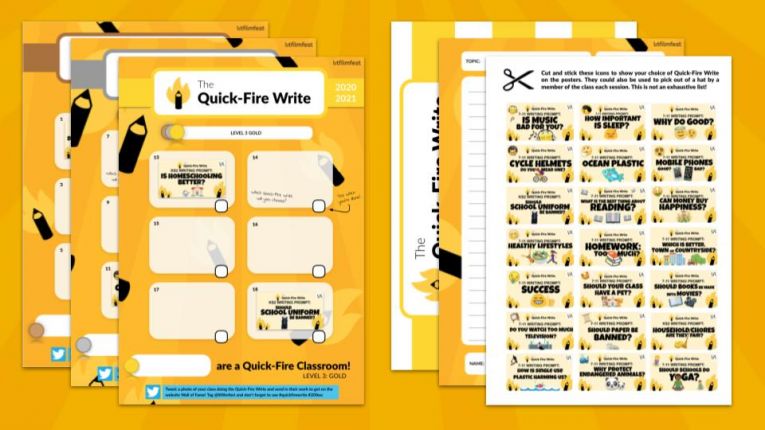 ---
How do other teachers use the Quick-Fire Write?
'I use with my Year 4 pupils as an opportunity to discuss issues together initially – practising orally aids them with the writing so much and they develop cultural understanding through the videos too.'
'I use these as a writing warm up session for use in early morning work.'
'They love sending in photos of their work on Twitter to try to get them on the 'Wall of Fame'. It gives them purpose for their writing.'
'I use these videos with my Y6 class as a weekly writing task. It provides me with the time to work 1:1 with children whilst the others are accessing a quality and purposeful resource.'
'It is great to incorporate the videos when teaching about specific writing genres.'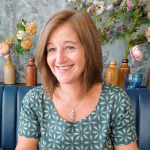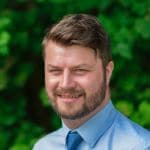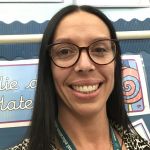 ---
We want your writing entries!
We're also collecting writing to share with the community, creating endpoints for other children to 'magpie' good ideas. So, share your pupils' work with us. Please do so on Twitter @litfilmfest (use #quickfirewrite #200wc) or email it to [email protected], and we'll add submissions and photos to the 'wall of fame' below each video!
You can also use the Make Your Own Quick-Fire Write pack and have children write their own explainer text, making videos to be used on our website by other schools!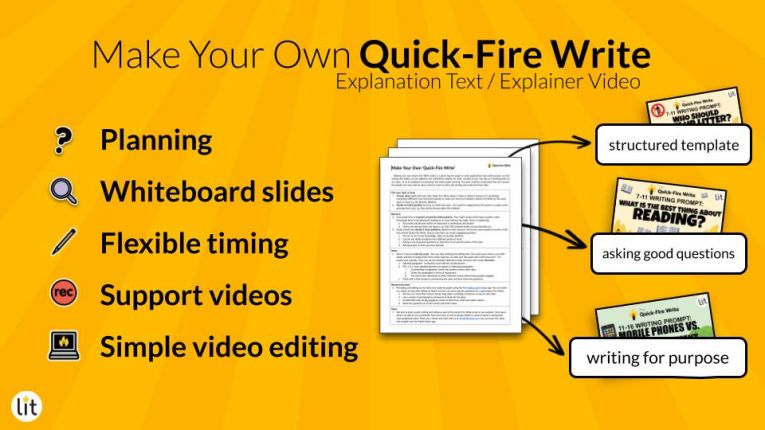 ---
Quick-Fire Certificates
For added engagement, you can quickly create personalised certificates for your students when they complete their work to a high standard.
Just fill in the form linked below, and you'll receive a filled out certificate for your student via email. This can then be printed, or shared digitally with parents.